Airboat Ride in Orlando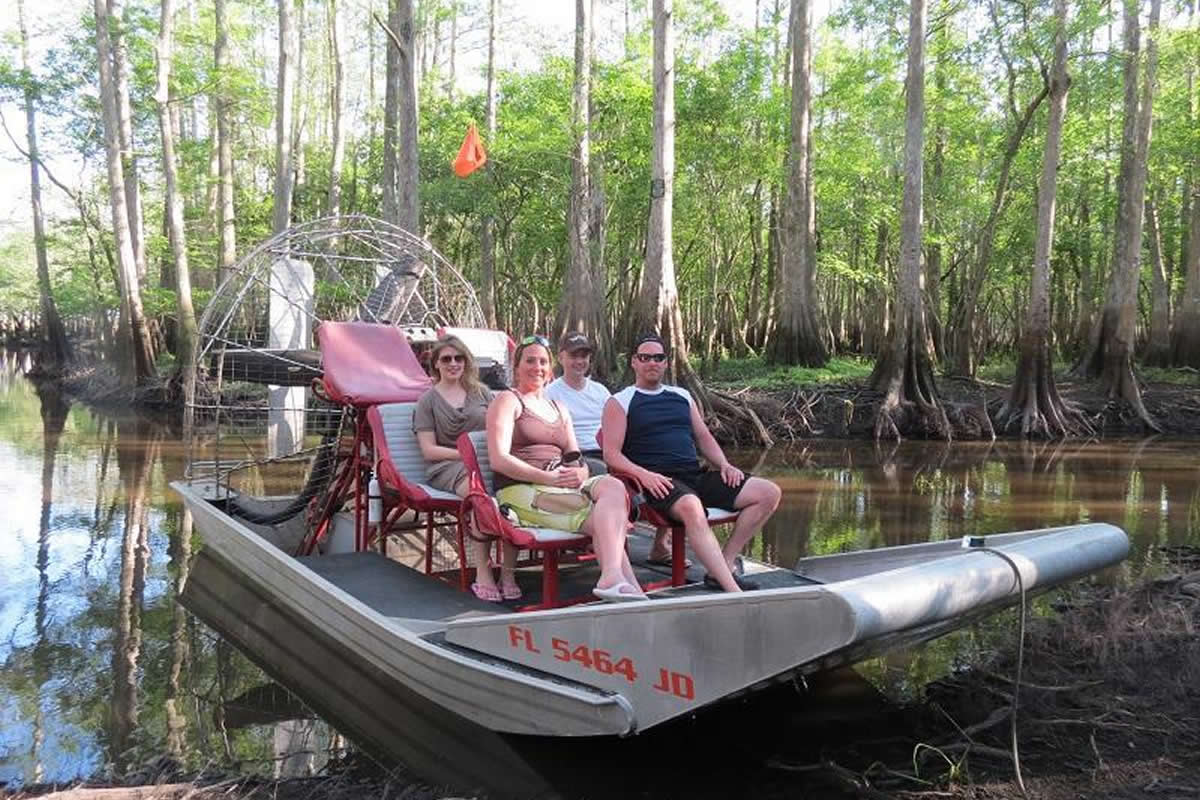 Introduction – Nature's Call In Orlando
Whether it is your first or 30th time, there is always something unique, something wonderful about taking an airboat ride in Orlando and coasting through the Florida Everglades to experience the wild side of nature like never before.
From the Genesis, our mission is aimed at providing you with an unforgettable airboat ride experience that encourages a connection with animals while fostering conversation and knowledge regarding the offsprings of Mother Nature.
You and your family can discover a unique side of Florida's natural glory that you'll never believe existed, all in the comfort of an airboat ride, which unlike motorboats, can take you to deeper parts of the swamp. The best of Florida's airboat ride and tour services are located in Orlando, and the swiftgrassoutfitters is one of the leading tour providers.
Experience The Best With Swiftgrassoutfitters.Com
If you intend visiting Orlando or the Central Area of Florida on your next vacation and you want to see and feel the REAL Florida in its natural and unique state, untouched by urban development, then take the time out to see us.
We are located right in the heart of the wild where there are no houses, no playground, no city parks and no traffic; nothing else but the descendants of ancient Eden that characterize the TRUE Florida's Wildlife.
Give your kids an experience they will talk about even when they grow older and treat your family to the greatest form of adventure on the back of one of Florida's airboat ride and tour service providers—the SwiftGrassOutfitters.
What An Airboat Ride In Orlando Offers You
The beauty of an airboat is that it is powered by its propeller which operates by sitting above the waterline, meaning the airboat sits atop the water and not in the water. This function allows the boat to operate efficiently in marshy, muddy or dry waters.
So, you're guaranteed safety, stability and comfort, while our experienced airboat captains that know the Everglades like the back of their hands, will take you to see the hidden and exotic spots of the swamp where you will discover breathtaking areas and animals that you have only seen on TV.
Feel The Rush Of The Winds
If seeing different species of animals isn't enough to convince you to take a tour with one of our airboats, the rush of the wind sure will give you something to think about! Although airboats are not known to be speedy, there is something about the wind blowing across your face that makes you feel you're flying as you coast down the natural habitat of Lake Cypress that's so exhilarating.
The airboat ride in Orlando travels at just the right speed so you, the kids or any member of your family shouldn't get frightened about the prospect of riding.
Airboat rides have a way of getting the children to sleep as they feel the great but gentle caressing from Mother Nature's love -- the wind causing them to drift off in perfect sleep.
Enter the Gators Paradise
An airboat ride in Orlando will bring you face-to-face with Florida's lord of the swamp—the alligator! Although animals in the Gator and Wildlife Park are awesome to behold, there are different species with breathtaking characteristics you can only see while riding on an Orlando airboat. There are different species of animals that call Wildlife Florida home, and you can only see them right on the swamp.
Large water birds like the great heron and anhinga are some species of animals that prefers the mangrove swamp and marshes where they're offered the opportunity to hunt slow moving fishes and other aquatic life.
An airboat ride in Orlando will give you the opportunity to see hundreds of birds and animal species, but the top favourite spot is the alligators and the unique sight of the bald eagle. Oh, wait a minute! Look out for the cows as well as they trod and grazed across the marshes as lords of the grass!
Notwithstanding, every ecosystem has a king, and we all know who wears the golden crown in the Everglades. They elicit fear, big, smart, and fast and they are both lord and masters of the swamp! By now, you know who we are talking about—the American alligator. There are so many reasons why these creatures are the comptroller-general of the Everglades, but you can only get to know when you choose to ride on the back of an airboat in Orlando.
No doubt, an airboat ride in Orlando offers you a chance to see a rare part of the animal kingdom that can teach you something unique regarding the wildlife that calls Lake Cypress home.
Airboat Ride In Orlando: Your Family Best Spring Break
Of course, we are quite aware that between Florida's world-class attractions and pristine beaches, it can be hard to choose what things your family should do during your spring break trip. Although both of these options are worth considering, you should know that there is more to Florida than what you might have read in a magazine or brochure. For instance, an airboat ride in Orlando is:
Fun for the entire family
Tell me, how many people out there doesn't love going on a ride? We know theme parks are good for offering different types of ride, but sadly, a lot of the roller coasters have height restrictions, unsuitable for children of certain ages and unsafe for riders having certain medical conditions. The wonderful aspect of airboat rides is that they are suitable for people of all ages. They are equipped with life jackets, wheelchair accessible, and there are ear protection gadgets, meaning kids and grandparents alike can enjoy the best of an airboat ride in Orlando.
No long Queues, No Qualms
Unlike theme park rides and trips to mundane places like the supermarket where you're bound to run into lines during your spring vacation, the only line you will experience with an airboat ride is when you and your blessed family are walking down the dock to the airboat.
It is our sincere faith and commitment that you and your family should spend the spring break having fun, not waiting in lines; and that can only be possible in the comfort of an airboat ride in Orlando.